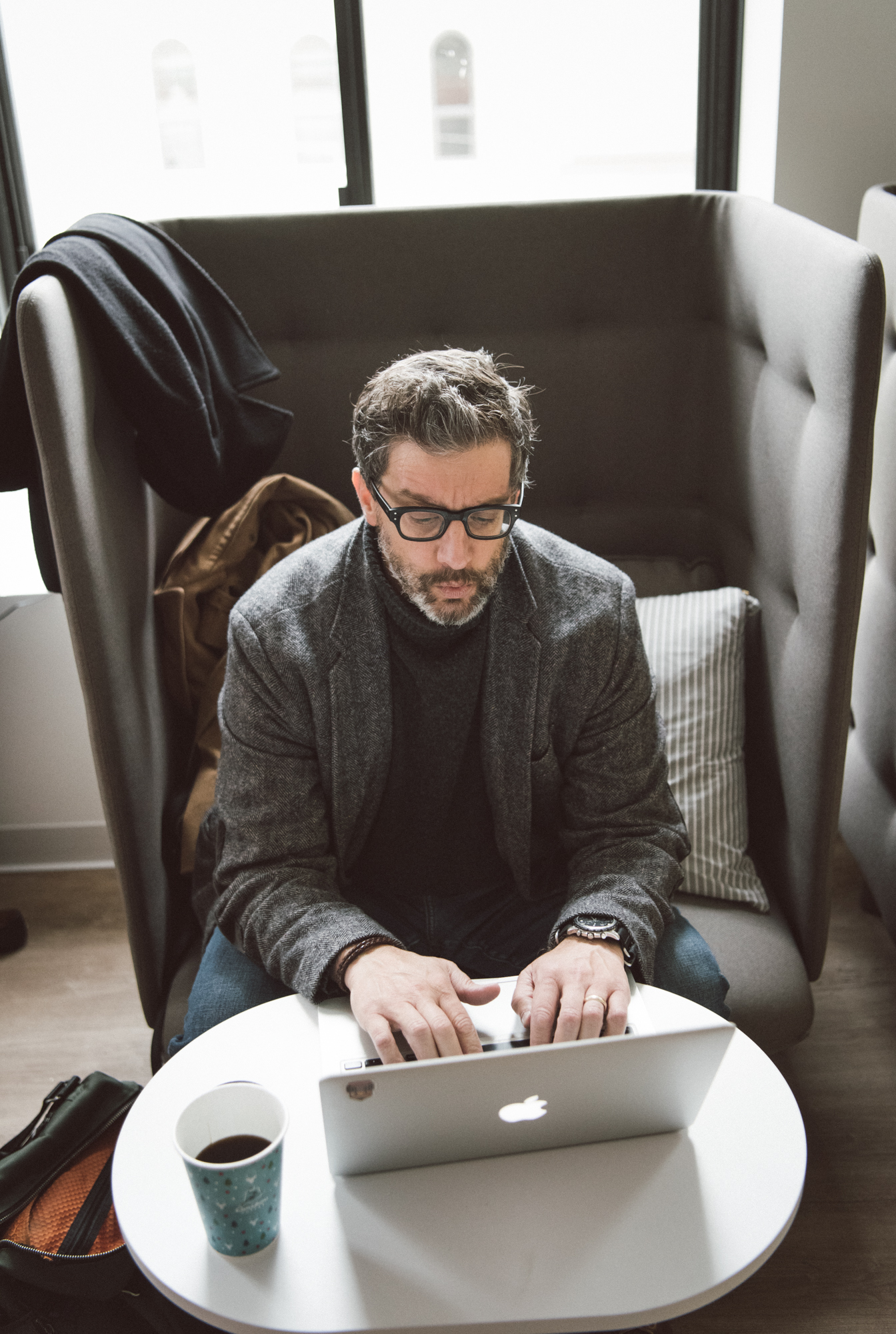 My job was eliminated. I wasn't.
During the pandemic we hear a lot about our essential workers.
I hate to break it to you but most of us are not that important.
We don't work in healthcare, or are teachers, or are delivery drivers making sure shipments get to their destination on time.
Hell, the thought of backing up a semi to a loading dock scares the shit out of me. I'd most certainly fail.
I'm a copywriter turned creative director. I have worked in advertising for the past 20 years. And on the totem pole of essential, advertising is probably close to the bottom. But when you're inside it, it feels essential. We have a lot of passion for the work. And that's a good thing, even though it doesn't matter much to the broader world. Truthfully the world doesn't think too fondly of the advertising business. One of my favorite quotes on advertising is from French adman Jaques Seguela:
"Don't tell my Mom I work in advertising, she thinks I play piano in a whorehouse."
I love advertising. The daily challenge, the vibrant culture, the dynamic people you meet.
Boring it is not.
But sadly (or not), my work at the agency recently came to an end. A couple of weeks ago I was told my job was eliminated due to COVID. While sickness manifests itself in the body, it seems the pandemic was manifesting itself in all kinds of other ways, taking its toll on the economy and our collective mental health. The agency business was off, way off, and I was a casualty.
As a creative person, I instinctively see possibilities where some may not. I tend to not accept things as they are but rather as they could be. Is being let go from my job an end or a beginning? The answer for me was easy.
And, truth be told, this was likely quite a long time in the making.
Pre-pandemic I was questioning a lot about my life. Guys like me don't get in ruts, but I was in one. I'm not an advertising creative as much as I'm just a creative person who happens to work in advertising. I'm a songwriter, journalist, and photographer who has a lot of friends and colleagues that follow different creative pursuits. Filmmakers. Musicians. Artists. Writers.
My life is not just advertising.
Still, I felt a loyalty to the agency and came in every day, happy to have a job, and surrounded by a group of energetic, fun, smart people who make me better. I love the job and found the work satisfying. I had a lot to be thankful for, made decent money, and have had a long and successful career. I've won awards, and had the privilege of working on some amazing work with amazing people. I wasn't complacent.
Still I would stare out my office window and wonder, "Is this all there is?" "Is this where it all ends for me?"
On my office wall directly across from my desk chair I had a poster commemorating the 2018 Cannes Film Festival. On it is a picture of Jean Paul Belmondo and Anna Karina kissing in a still from the French New Wave film Pierrot Le Fou. France was a vibrant and ferociously creative place to be in the 1960s, and filmmakers were pushing the boundaries of film art.
Every day I stared at that poster and thought about how I had so much more creativity to give — in advertising and outside of it. I looked out my window in between meetings and conference calls and creative reviews and thought about the world going by as I was watching it happen. It didn't feel right.
Then, in early March 2020, the pandemic hit. There was an uncertainty in the air you could feel. In the office there was a growing realization that adjustments to how we conducted business had to be made. With a highly contagious pathogen in the air, efforts to be socially distanced were mandatory. The agency was quick to decide that we would all be working from home and we were quickly onboarded to Microsoft Teams.
Next thing you know I'm in my living room, outside of the confines of an office, having virtual meetings, writing and living my life under the dark cloud of a pandemic. While COVID-19 was certainly scary and people were getting very sick, my surroundings in a little suburb just north of Milwaukee were quite comfortable. My family was very diligent about staying safe, wearing masks, avoiding large gatherings and staying socially distanced.
Remarkably, the work from home setup made me feel closer to the agency. We quickly instituted a daily creative call with senior creative people — something we did not do when we were in the office. Feeling connected to my co-workers, knowing what they were working on and helping out lifted my spirits. Sharing the knowledge of what everyone was working on had a galvanizing effect. We were busy, focused, dedicated, unified. And you could tell people had a renewed sense of purpose. I had never felt this connected to the department.
My office inside the office was located in a place disconnected from most of the creative department, tucked away from normal agency traffic patterns. People didn't just happen by my office. I was, in a lot of ways, hiding. It was on me to walk around and talk to people, which I did. But not nearly often enough, These daily calls were kind of a godsend.
At home, I was able to conduct business and pay attention to my daily workload with efficiency. The added bonus was that in between meetings and deadlines I could cut the grass. Get some things around the house done. Run to the driving range and hit a bucket of balls. Write 1000 words on whatever I wanted to, just because. The work life balance debate had been solved. I was in a job I enjoyed with the added benefit of doing it from home, where I could pay attention to other things while I wasn't working. In the confines of my office I couldn't do this. It was freeing, satisfying, invigorating.
Behind the scenes at the agency, however, there was a different story unfolding. Budget cutbacks, business losses, and lost new business pitches started to mount. There was a round of layoffs in late July, which I survived. I'll never forget that day, the knot in my stomach reached all the way to my throat. We had an all agency call and our President teared up. It was an honest and profound moment of real humanity. I messaged a few of my close colleagues who had been let go to wish them my best. I had a thought in the back of my mind that if there was another round, I would likely be next.
My gut wasn't wrong. The second wave of layoffs happened in late October and I was not so lucky. But ironically I felt very lucky. I loved my co-workers, I spent nearly 10 years giving the agency the best I had. I built meaningful lifelong relationships. I held no grudge. I felt no ill will at all. I only felt thankful. The two guys who had to let me know that I would no longer be working with the agency were people I had immense respect for. I did not envy them, and tried to make it as easy for them as possible, if that was even possible.
After our conversation, I walked back to my office, grabbed my stuff and headed out the back door. I got in my car, and as I drove away and the agency got smaller in my rearview mirror, a world of possibility engulfed me.
For quite a long time I had wanted to reinvent myself. The pandemic had pushed me over the edge. Those feelings I had months ago trapped in my office were gone. I was hopeful — a strange feeling considering that for all practical purposes I had been "eliminated."
It made me think of those essential workers and what made some essential and others not. While my job as a creative director certainly wasn't necessarily contributing to the greater good, (another banner ad?), I would say that I took cues from those essential workers that I incorporated into my daily agency life.
I imagined an essential worker, showing up to their challenging job, putting a smile on their face, doing what they are asked to do, and doing it to the best of their ability that day. And along the way hopefully being a positive force in people's lives. Because that's what people remember.
Not the ads.